Summary: When Nokia's N900 smart phone was released on November 11th, 2009, it was a revolutionary device. The N900 truly contained the power of a desktop computer in the form factor of a mobile phone. It ran the Maemo 5 Linux-based operating system, and its hardware specs made geeks around the world drool. So why did Nokia turn their backs on a device so far ahead of its time? They were offered a deal that they found too good  to refuse. That deal led to the Lumia 900, and other Windows Phone 7 Nokia smartphones. In this edition of the Linux Week in Review, I will take a close look at how the three year old Nokia N900 measures up against the much newer Lumia 900. Is the Lumia 900 doomed or is it destined to become a smashing success?
The Nokia N900
When I first heard about the Nokia N900 a few years ago, I was extremely excited about the prospect of a full-powered smart phone running GNU/Linux. The specs for the N900 were amazing at the time. In fact, the N900 still holds up pretty well today, 3 years later. Android was nice, but the thought of a full-fledged GNU/Linux distro on a phone were even better. Then the bombshell hit. On February 11, 2011, Nokia announced that it had entered into a partnership with Microsoft to develop Windows Phone 7 handsets. All development on Maemo Linux and Linux-powered handsets would cease….immediately. I was shocked, I was blown away, I was flabbergasted. At the moment when Free Software seemed poised to make a breakthrough, the rug was pulled out from under a great piece of hardware. I felt like I was reliving the collapse of the Openmoko.

Illustration 1: The Nokia N900 (image courtesy of Wikipedia under GFDL and CC licenses)
Focus Shifts to the Lumia 900
I owned a Windows PDA back around 2000 when I was still an avid Windows users. I loved the synergy between my Windows PDA and my Windows 2000 desktop. I could sync my contacts and seamlessly transfer information between the devices. My GNU/Linux revolution was still several years away. So I knew that Microsoft had the POTENTIAL to create a great device. However, I was still very skeptical. Microsoft appears to have completely lost its way on mobile devices. As Google's Android and Apple's IOS have gobbled up market share, Microsoft has wandered as aimlessly as a ship adrift at sea. Could they get it right this time? Microsoft is a corporation undergoing a massive upheaval. They seem to be realizing that the world in 2012 is much more open than it was in 2000. Yes, Apple has succeeded with the walled garden approach, but Android is skyrocketing with a much more open approach. Which one is Microsoft going to imitate with its approach to the Nokia Lumia series? I think that the success or the failure of the platform depends on the answer to this question.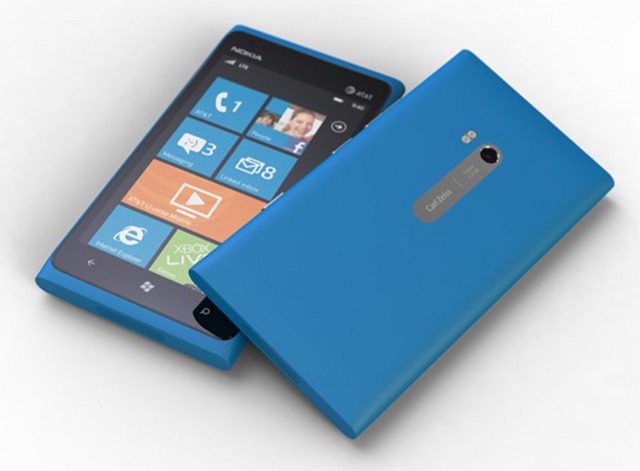 Illustration 2: The Nokia Lumia 900 (Image courtesy of Bytewiki.com under CC license)
Nokia Got It Right With the N900, Will They Apply What They Learned to the Lumia 900?
Let us do a side-by-side comparison of the two devices (Data courtesy Wikipedia):
Nokia N900
Nokia Lumia 900
Release date
November 11, 2009
April 8, 2012
Operating system
Maemo 5
Windows Phone 7.5 Mango
Connectivity
GSM 850/900/1800/1900
GPRS 107/64 kbps DL/UL
EDGE 296/178 kbps DL/UL
UMTS 900/1700/2100
WCDMA 384/384 kbps DL/UL
HSPA 10/2 Mbps DL/UL
WLAN IEEE 802.11 b/g
Bluetooth 2.1
Integrated GPS with A-GPS[1]
88-108 MHz FM receiver
88-110 MHz FM transmitter
Infrared transmitter
Bluetooth 2.1, 802.11b/g/n, G-Sensor, Digital Compass, Gyroscope, dual mode A-GPS/GLONASS, micro-USB, 3.5mm audio jack, FM radio
Battery
BL-5J 1320 mAh battery
Rechargeable BP-6EW 1830mAh Li-ion battery
CPU
TI OMAP 3430 SoC
600 MHz ARM Cortex-A8 CPU
430 MHz C64x+ DSP[2]
1.4 GHz Qualcomm APQ8055 + MDM9200 (WCDMA)
Camera
5.0 MP (2,584×1,938) 1/2.5″ sensor [3], f/2.8 5.2mm (31.2mm focal length in 35mm terminology) Carl Zeiss Tessar lens (rear camera)
0.3 MP (640×480) f/2.8 (front camera)
Rear camera 8 Megapixel, 3264×2448 pixels, dual-LED flash, autofocus Carl Zeiss optics, 720p video capture Front camera 1 Megapixel, 1280×720 pixels
Display
TFT 800 × 480 resolution
8 mm (3.5in) diagonally
105 pixels/cm, 267 ppi
4.3 in. ClearBlack AMOLED capacitive touchscreen
480x800px 217 ppi 16m-color WVGA[1]
Corning® Gorilla® Glass
Data inputs
Resistive touchscreen
Localized backlit keyboard with variations for English, Italian, French, German, Russian, Scandinavian and Spanish
microphone
3-axis accelerometer
Proximity sensor
Ambient light sensor
Multi-touch capacitive touchscreen, proximity sensor, ambient light sensor, 3-axis accelerometer, digital compass, dual microphone
Memory
256MB Mobile DDR
768MB swap space for a total of 1GB virtual memory
16 GB internal flash
512 MB ROM
512 MB RAM
You get the idea. Clearly, the Lumia 900 is a superior piece of hardware, but not 3 years worth of superiority! The hypothetical 2012 version of the Nokia N900 would clearly own the Lumia 900 in the same way that the Los Angeles Clipper's superstar power forward Blake Griffin recently owned Pau Gasol (for those of you that do not follow NBA basketball, Griffin viciously dunked on Gasol TWICE during a game). So clearly, Microsoft and Nokia scaled back on the hardware to cut the price of the Lumia 900. The hope is to give it a fighting chance against the Android and Iphone juggernauts.
Final Thoughts
The Nokia N900 was a device with SO MUCH potential. It would have been a truly revolutionary platform. Perhaps it was doomed by being several years ahead of its time. I hope that Microsoft and Nokia succeed because more competition drives down prices. However, the Nokia N900 was a beautiful and open platform. In this regard, the Lumia 900 appears to be a huge step backwards for Nokia. They went from a revolutionary device to a relatively mediocre one that hopes to gain market share by being a good value. This is not necessarily bad for a certain segment of the buying community, but it would have been nice to have a more open alternative to Android. I love my Android phone and my Android tablet, but I would strongly consider GNU/Linux alternatives when it came time to replace them if those alternatives existed.
What would I have done if I were Nokia? I would would have accepted Microsoft's offer to build Windows Phones, BUT I would have insisted on continuing to develop Linux handsets as well. I would have continued the Nokia N9x series. I would have let the market decide which is the better platform. Hopefully, Nokia would have found that there was a market for BOTH classes of devices. Unfortunately, the decision has been made, and we will never know what could have been.
The most incredible thing is how popular the Nokia N900 still is, and how much of a price it STILL commands on Ebay. Illustration 3 below is a screen capture from Ebay showing the price of an unlocked Nokia N900 during the first four months of 2012.

Illustration 3: Nokia N900 Prices Jan-Apr 2012