Bodhi Linux is a fresh, Ubuntu-based, Linux distribution that utilizes the Enlightenment desktop manager and only needs 1.2GB of space for a fresh installation. Bodhi is a semi-rolling release with two primary goals. Bodhi Linux aims to promote user choice and provide a minimal environment. I've used it for several weeks now and, although it took some getting used to, I have been impressed by several of the features of Bodhi Linux 1.4.0.
Profiles
I've always wondered why I have a battery indicator and other unecessary things on my desktop panel by default. Bodhi Linux addresses this issue by allowing users to select a profile. Bodhi Linux Profiles control the layout of the Enlightenment (E17) desktop. The profiles options are Bare, Fancy, Default, Desktop, Compositing, Laptop/Netbook, Tablet, and Tiling. I selected the Desktop profile while setting up Bodhi on my Dell XPS 400 desktop and the Laptop/Netbook profile option while running it on my EeePC 1001p netbook. The main difference is that each profile presents different gadgets and a theme according to hardware or user type designated by the profile. This makes each installation tailored to the users' needs out of the box. Best of all this can be changed at any time by going to Settings — All — Settings — Profiles in the main menu.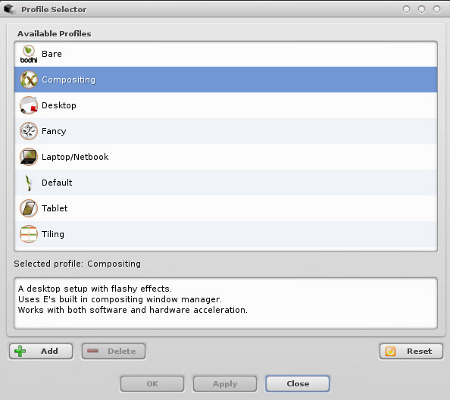 Applications
I found very few applications installed by default on Bodhi Linux but I think that's the point. I didn't find this to be an issue because I usually have to install quite a few applications on any distro and I certainly don't want one so bloated I have to remove applications. The applications installed were Midori, LXTerminal, PCManFM, Leafpad and Synaptic. Yes, that's it.
Bundles
Bodhi also takes a unique approach to adding applications. In the menu, go to Bodhi Linux — Add Software. This will open the Bodhi Linux AppCenter where you can install applications directly or by downloading. The Bundles options include Nikhila(a full featured bundle) and Pratibha(a lightweight bundle). I installed Nikhila which includes things like LibreOffice, gEdit, Transmission, xfBurn, and others (20 all together). The bundle worked well and installed the same way the individual applications did.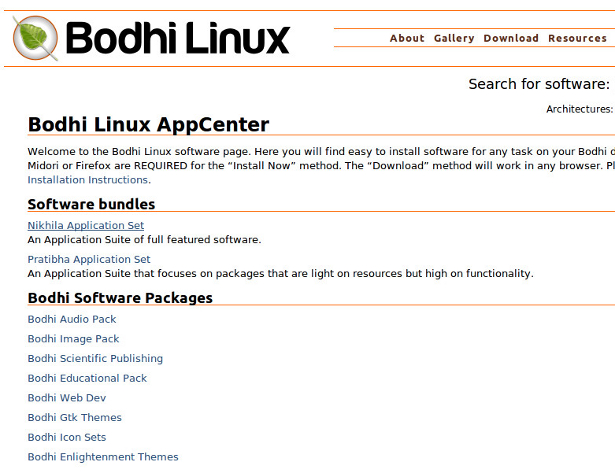 Look and Feel
It's unique, clear, crisp and after getting used to Enlightenment (e17) I was able to customize it to my needs. In the Settings part of the main menu you will find you can activate modules and gadgets, change themes and more. Another way to quickly change the look is the Profiles feature. I tried out all of the different profiles including Compositing, which featured some cool menu effets and a few other visuals.
As far as making the desktop look good, I really didn't even scratch the surface. I thought I was making a decent looking desktop until I visited the Desktop of The Week part of the Bodhi Linux website. I've seen it over on my G+ stream but never checked it out. The Desktop of The Week submissions are amazing and I think a great way to involve the community.
Overall
This is a truly unique distribution that has a big future ahead of it. It seems to be growing quickly and has a very active community. I like the approach taken with the minimal amount of applications and overall snappy feel. The AppCenter worked as promised even though I didn't use the Install Now option because I have Chrome installed. The Bundles are a useful start but I think having a wider selection of Bundles would be helpful. Overall I would not hesitate in recommending this distribution to a friend.
Have you used Bodhi Linux? What did you think?