Better late than never, openSUSE 12.2 arrived in September 2012, having first been scheduled for July. It comes in both Gnome and KDE flavors with pretty much all the software you could want (the full DVD version weighs in at 4.7GB, with lighter weight CD-sized options for each of KDE and Gnome).
SUSE has always been one of the major Linux distros, but has struggled a little to find its place since being bought by Novell and then sold off to VMware in 2010. Novell sought to challenge Red Hat, positioning SUSE as a commercial enterprise Linux. The openSUSE community project then aimed at making a more general purpose distro with an emphasis on the desktop.
The result is openSUSE: an all-rounder distro, which can be good or bad depending on what you're looking for. If all you want is user-friendly desktop operating system, there may be better options (some would argue the case for Ubuntu or Mint Linux, for example). But if you want to have one core distro to use for both server and desktop – which isn't a bad idea, simply by reducing the number of quirks you have to figure out – you could do a lot worse. Similarly, if you're a more experienced user who wants the power of KDE combined with the best open source applications, openSUSE should definitely be on your list to check out.
Installation
There was a time when SUSE had pretty much the easiest installation routine around. It's still good, especially for the experienced user.
After guiding you through language and timezone settings, openSUSE brings the user face to face with the tricky issue of disk and partition settings.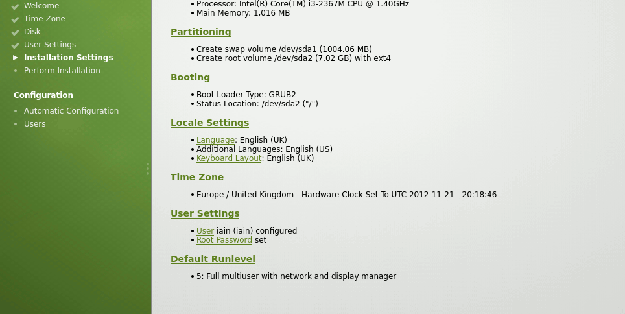 Sensible defaults have been chosen and simply accepting them works find for most situations. The advanced options allow for almost any configuration you could think of, including partitioning, encryption, logical volume manager (LVM) and the ability to import a partition setup from a previous installation.
Similarly, password file and encryption defaults are sensible with advanced options available for those who need them.
There's no doubt the installation isn't as simple as some distros. For a novice user tempted away from Windows or MacOS to try Linux for the first time, there's a lot more to confuse and worry in an openSUSE installation than, say, Ubuntu. What's a btrfs filesystem? OpenSUSE won't give you many clues, but offers it as a tickbox – enough to worry many new users. Like me, you may have received calls from worried relatives asking "should I select that?" on some software option even when accepting the default would be fine – these things can matter.
Having said that, openSUSE live CDs for Gnome and KDE allow you to give the distro a try without having to worry about installation options, and they work well.
OpenSUSE has finally embraced the Grub 2 bootloader, easing the pains of those who like to keep their options open to boot multiple distros, since most others have long since used Grub 2.
Desktop
OpenSUSE comes with fairly current (though not the absolute latest) versions of KDE, Gnome and a host of open source software.
OpenSUSE 12.2 comes with LibreOffice 3.5, Firefox 14, Amarok , Dolphin file manager and no shortage of other options. Out in the wider world, Firefox is on version 17 and LibreOffice on 3.6.3 a the time of writing, so some software updates would certainly be a good idea after you've installed.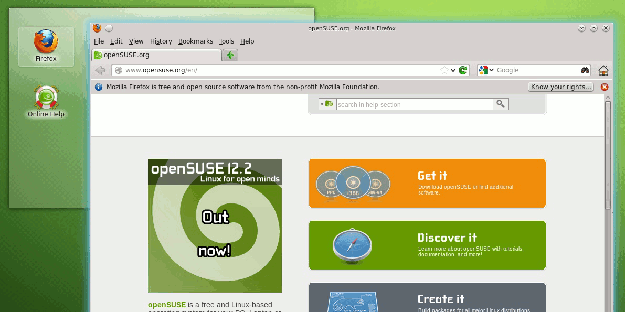 KDE 4.8 feels slick and fast, which is no bad thing as the competition from Windows, MacOS, Android and others certainly won't let up. Again, an update to the latest version (currently 4.9) probably won't hurt.
Configuration tools
When YaST came out on SUSE something over a decade ago, it was a revelation. Before then, Linux configuration had consisted of editing files, terminal commands with often obscure options or, if you were really lucky, a bunch of disconnected graphical tools scattered around and with no consistency (some of them might have even worked).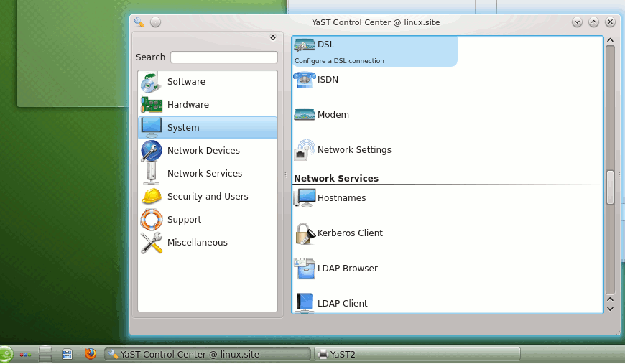 YaST – "Yet another Setup Tool" – was genuinely head and shoulders above the rest and saw Linux starting to match capabilities with commercial Unix management tools.
Although others have caught up, YaST – the Control Centre – is still pretty good. It covers most of the configuration and administration options you could want, has them organised consistently and sensibly and names them in plain English (as far as possible to still make sense).
YaST isn't perfect though. I was a little taken aback when trying to edit network settings to be told by YaST that I needed to use another tool – something there may be a good technical reason for, but isn't very helpful.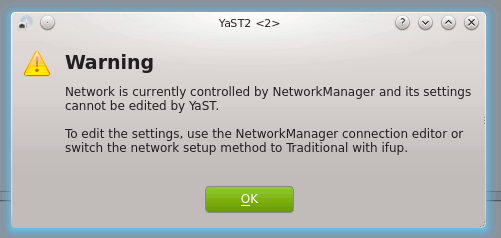 A lot of the more basic configuration options have now moved outside YaST, with over thirty high level options appearing in the Configure Desktop app, from Desktop Effects to SSL Preferences. In fact, the options there go a great deal further than anyone could reasonably consider desktop configuration – it's more non-administrator configuration.
Help and Support
One advantage of a mature Linux distro like SUSE over some of the newer kids on the block is the maturity of the support offering.
OpenSUSE has a well established help community and a vast range of online resources (though, as always, be careful – not all self-appointed "experts" are equally good). For the business user, commercial support is readily available from a wide range of providers, whilst at the enterprise level VMware SLES (SUSE Linux Enterprise Server) provides the highest level of support.
To OpenSUSE or not to OpenSUSE?
One of the joys – and curses – of Linux is the sheer number of distros, each one with its own strengths and weaknesses. Each one has its adherents, who are sometimes a little too confident that whatever the question is, their distro of choice is the answer.
For most of us, though, there are good reasons to pick one over another for a certain task.
OpenSUSE is a good all round distro for the reasonably experienced user. If you know your way around Linux, can cope with the occasional less-than-obvious error message and drop down to the command line when needed, you'll find openSUSE 12.2 a slick, functional option. It goes some way to avoid forcing the user to comes to terms with advanced options and technical jargon, but not nearly as far as Ubuntu.