As many of you know the day after Thanksgiving, known as Black Friday,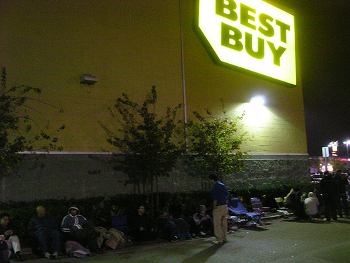 is the busiest shopping day of the year in the United States. Shoppers can find all sorts of special deals and discounts especially on technology related merchandise. In past years I've got up early and waded through the crowds to save a few bucks on my favorite tech gear. Last year I raved about a few Linux netbooks that caught my attention but this year Linux tablets have made it a whole new ball game. Deals on many different types of Linux netbooks, tablets and other cool gear have got me fine-tuning my Black Friday 2010 strategy and gearing up for some serious competition.
One item on my shopping list this holiday season is a Linux based tablet device. I decided to check the Sunday ad section and put together this list of Black Friday 2010 Linux Tablet Deals.



Google Chrome OS Tablet From Verizon
The specs on the HTC Google Chrome OS tablet were released back in August. Since then, we've all heard the rumors that the tablet will be available through Verizon on November 26th, 2010. Many are speculating that, compared to the iPad, the Google Chrome OS tablet will feature a cheaper price point in an effort to lure in would-be iPad buyers. I think an advantage this tablet has over the iPad is that Chrome OS provides more of an everyday computer/netbook experience and that's something a lot of people are looking for.
Sylvania 7-inch Tablet At Toys R Us
The Sylvania 7-inch tablet is already out and available at Sears, K-mart and several other stores for around $180. Toys R Us has announced it will be selling this tablet for $139.99 starting at 10PM on Thanksgiving day and ending the next day (Friday) at 1PM. This is probably the most attractive low budget Linux tablet coming out on Black Friday although it comes off as strange being sold at Toys R Us.
Samsung 7-inch Galaxy Tab Tablet
The Galaxy tab has been for sale since November 10th, 2010 and Samsung has reportedly stated they hope to sell 1 million tablets by the end of 2010. After reading some of the reviews on the 7 Inch Galaxy tab, I'm pretty impressed. Consumers will find special discounts on Black Friday offered by both Verizon and Sprint. The Galaxy tab has already been reviewed by Engadget, TechRadar, PCWorld, Gizmodo, and many more.
Viewsonic 10.1-inch Tablet At Staples
This tablet has a lot of nice features and looks like a very solid device. One question that remains is if it comes with Android 1.6 or dual boots Windows 7 and Android 2.2 Froyo.