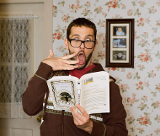 Write About Linux And Get Paid For It
BeginLinux.com would like to hire you as a technical writer. We are looking for experienced Linux users to write tutorial style articles each week.
Requirements
Meet deadlines.
Write clearly in English.
Be familiar with advanced Linux desktop and server.
Have excellent troubleshooting skills.
Articles
Must be 750+ words long.
Include screenshots.
Examples: Advanced Desktop, Bash Shell, Nagios, Postfix, etc.
You must give up the rights to the articles to BeginLinux.com.
Pay
We would like to pay you between $15 and $25 per article. We will agree on an amount to pay you after reviewing your writing sample. 
Get Started
Send a 750+ writing sample to mike@beginlinux.com. This sample must be something technical that you have written, Linux related.