On January 30th, 2012, I started a petition requesting that the U.S. government broaden their use of Free Software and Open Source software to save money. I deeply believe that this one step is PART of the solution to the problem of the crushing national debt that the United States is currently facing. Will shifting to Free Software completely solve the crisis? No, it will not. Software expenditures are a very small part of our national budget. However, at some point, if we do not want our nation to go bankrupt, we will have to have the discipline and the fiscal restraint to say "no more". The United States is not an infinite repository of cash, as many vendors seem to think. Decades of overspending have left us in quite a mess, and I believe that Free Software can help.
IF YOU WANT TO SKIP DIRECTLY TO THE PETITION, IT IS HERE:
https://wwws.whitehouse.gov/petitions#!/petition/lower-national-debt-expanding-governments-use-free-software-such-gnulinux-and-libreoffice/jkLbwPDC
The Free Software Petition was my first experience with any kind of an event that went viral. My good friend Andrew of BeginLinux.com submitted the petition to Reddit.com and it just took off. Before we knew it, the petition link had 100 votes, then 200, then 400! It is now well above 400 votes and still rising. As of right now, you may still be able to view the Reddit link at http://www.reddit.com/r/linux. However, I would like the Reddit petition link to get some exposure on the Reddit homepage. The more people that see and sign the petition, the better the chance of the Obama administration seeing it, and taking action on it.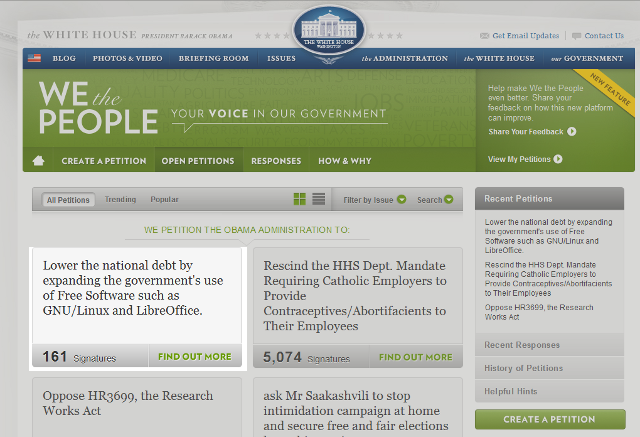 The GNU/Linux Petition on WhiteHouse.gov, January 31st, 2012
Several people have made duplicate Reddit submissions of the petition link, which is spectacular! However, we would like you to vote on the original Reddit link if you agree with the petition so that we can drive it to the Reddit homepage and get more exposure. The original Reddit link is here:
http://redd.it/p3a8d
You can also sign up for WhiteHouse.gov and vote for the petition using the link above.
The goal is to absolutely destroy the threshold set by the White House: it takes 25,000 signatures to get the Obama administration to look at a petition. We want to send them a STRONG message by getting 250,000 signatures before the February 28th deadline!
Conclusions:
We are about to make history. Thank you sincerely to all who have already signed this petition!!!