After years of holding the top spot on the Linux desktop leaderboard it looks as if Ubuntu is starting to slip.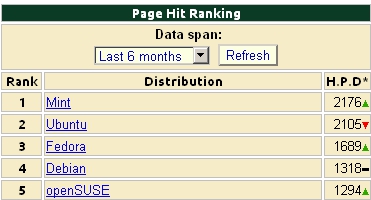 Distrowatch.com displays a popularity list of all Linux distributions by measuring the number of hits per page on their site. This ranking system is considered to be one of the most reliable around. Even if it is only a measurement of one website's traffic. Lately Linux Mint has been making a run at first place.
Although I've seen Linux Mint and even PCLinuxOS hold the distrowatch crown briefly in past years, each of their #1 listings was during a final release. Now in the midst of the Ubuntu Unity crisis, I noticed this morning Linux Mint has moved to #1. Remarkably, the Linux Mint 12 RC is not even out yet and the stable release is not set to happen until the end of November.
This was written by Clem on the Linux Mint blog a few days ago. "We recorded a 40% increase in a single month and we're now quickly catching up with Ubuntu for the number #1 spot within the Linux desktop market."
I feel like GNU/Linux needs a stand out distribution that represents how easy Linux can be for beginners and new users. This used to be Ubuntu but now I think Linux Mint is in a position to take over.
What do you think? Is Linux Mint 12 the real deal or is it destined for failure after it's adoption of Gnome 3?
Beginners, you may enjoy our Linux Mint tutorials section.