Summary: For too long, GNU/Linux has been locked out of the tablet market. That is about to change with the May 2012 arrival of the Open Spark. The Open Spark is a new tablet that will run a variant of GNU/Linux called Mer. A group of 42 Free Software developers have released a wonderful book called Open Advice. It chronicles their lessons learned from working on hundreds of Free Software projects. The Linux Foundation received an esteemed new fellow from SUSE, Mr. Greg Kroah-Hartman. Finally, the Free Software Petition on WhiteHouse.gov received a key endorsement.
The four stories for The Linux Week in Review 32 are:
The Open Spark: A GNU/Linux Based Tablet That I WOULD Buy!
Open Advice Delivers Free Software Lessons Learned
Greg Kroah-Hartman Joins the Linux Foundation
The Free Software Petition On WhiteHouse.gov Gets a Key Endorsement
The Open Spark: A GNU/Linux Based Tablet That I WOULD Buy!
I recently visited a local Best Buy, and I played around with several of the current generation of tablets. I avoided the one tablet that I knew that there was no chance of me buying: Apple's Ipad 2. The Ipad 2 is a wonderful device, but it is far too locked down for my tastes. For the most part, this left me with the latest Android tablets as my only option. I played with the Samsung Galaxy Tab 10.1 and the Toshiba Thrive, also a 10.1" tablet. I liked the Toshiba Thrive a lot more. Some nice features that made the Thrive much more attractive were its full-sized USB ports, an HDMI port, and an SD card slot. The only minus is the Android OS: I really want a fully FOSS tablet. The upcoming Open Spark tablet fits the bill.
The Open Spark has a smaller screen than the Toshiba Thrive, 7.1" vice 10.1". However, the advantages of a truly GNU/Linux-based system outweigh the Toshiba Thrive's larger screen size for me. The Open Spark, a Free Software tablet announced a couple of weeks ago, is VERY exciting. It is based on somewhat older hardware, so its specs are  less than the most modern tablets, but it will be released at a great price: about $260. This is one reason that I would buy it. The Galaxy Tab and the Toshiba Thrive are pretty expensive, priced comparably to some pretty decent laptops. The Open Spark comes with the Mer OS installed. Mer is a GNU/Linux OS derived from the defunct Meego OS. The Spark will utilize the Plasma Active Desktop from KDE, and it will be released in May 2012. I cannot wait!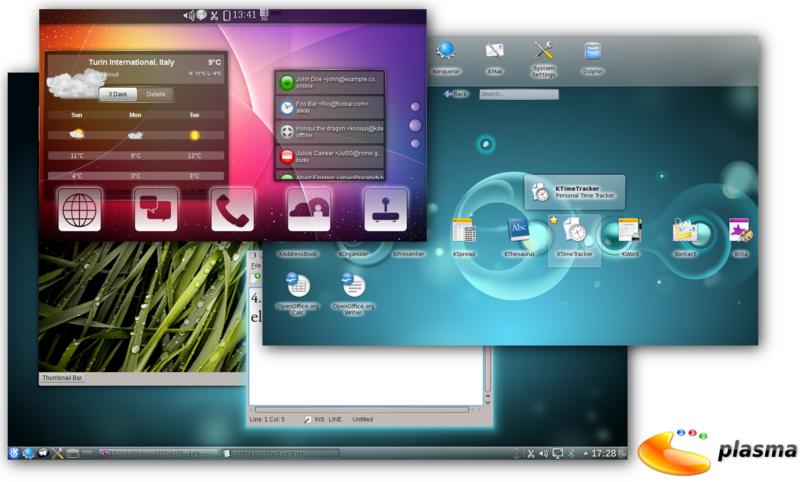 Figure 1: KDE Plasma
Open Advice Delivers Free Software Lessons Learned
Open Advice is a wonderful new book that compiles the knowledge of dozens of people who have worked on hundreds of Free Software projects. I'm reading the e-book version on my Aluratek Linux e-book reader, and I am thoroughly impressed. This is the book that I wish I had read a decade ago, when I first started getting involved with Free Software. The part of the book that I have read so far deals with the psychology of getting people to contribute to a Free Software project. For example, the book warns that you should never announce a project unless you have actual code to present. This makes perfect sense: people don't want to join a movement until they see that it has momentum.
The book's 42 contributors come from a diverse and wide range of Free Software projects. They share what they learned so that perhaps you, the reader, can avoid some of their mistakes and pitfalls. Open Advice should be required reading for anyone that wants to contribute to or start a Free Software project. Open Advice will be for sale on Amazon soon, and it is currently available for purchase on Lulu.com here: http://www.lulu.com/product/paperback/open-advice/18865584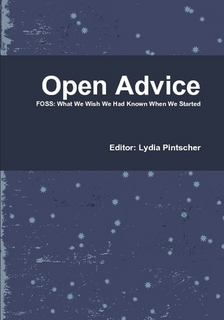 Figure 2: Open Advice
Greg Kroah-Hartman Joins the Linux Foundation
Greg Kroah-Hartman, formerly of SUSE, has joined the Linux Foundation as a full-time fellow. Mr. Kroah-Hartman maintains the Linux kernel's stable branch, and the Linux driver project. As a full-time employee of the Linux Foundation, he will be able to focus on ensuring the quality of the Linux kernel. His new role will be vendor neutral. The Linux Foundation will continue to focus on providing a great Linux kernel that can be used by all distros.
It is great to see such a good man become an integral part of the Linux Foundation. I wish Greg nothing but the best of luck.
The Free Software Petition On WhiteHouse.gov Gets a Key Endorsement
I have a couple of huge announcements.I received a wonderful email from none other than Richard Stallman last night saying the he supports our Free Software petition on WhiteHouse.gov, and that he will help us to promote it. He did have a few reservations about how it was written, but he agrees to support it anyway. Here is the email:
"I will promote the petition despite a few errors. For instance:
Free Software/Open Source based U.S. companies such as Red Hat Inc. and
Google Inc. that provide far more cost effective solutions.
I don't think Google provides solutions of this kind. It offers SaaS instead.
(It turns out someone else did send me the text of the petition, but I did not
find it when I looked.)
–
Dr Richard Stallman
President, Free Software Foundation"
The second announcement is that we are in talks with a VERY large organization to help us promote their product AND to promote the FOSS petition at the same time. I can't give more details at this time, but we should have a major announcement soon. We have to get 25,000 signatures on the petition by February 29th, 2012, and as of right now, we have 573 signatures. We need you to please sign the petition, and spread news of the petition to as many people as you possibly can. Use Twitter, Facebook, Google+, IRC, or any other means to get the word out. We are about to make history!
You can visit the petition here: https://wwws.whitehouse.gov/petitions#!/petition/lower-national-debt-expanding-governments-use-free-software-such-gnulinux-and-libreoffice/jkLbwPDC
Conclusions:
This has been another outstanding week in the world of Free Software. It is never boring, and there is always something new to be learned. Thank you for reading! I'll see you in TLWIR 33.
References:
[1]. Brodkin, Jon. [Feb 01, 2012]. Linux kernel chief exits SUSE, takes vendor-neutral oversight role. Ars Technica. http://arstechnica.com/open-source/news/2012/01/linux-kernel-chief-leaves-suse-expands-linux-oversight-role.ars
[2]. Trew, James. Spark Linux tablet specs updated, going up for pre-order next week. Endgadget. http://www.engadget.com/2012/02/05/spark-linux-tablet-specs-updated-going-up-for-pre-order-next-we/