Templates
1. Definition
In LibreOffice, a template is a file that is created in a basic form for use in creating other similar documents. This reduces the amount of repetitive work that the LibreOffice user has to perform. For example, let us imagine a college student who must write and submit papers in the APA format. Instead of setting up the APA format every time he or she starts a paper, a template APA formatted document could be created. That template would then be used to create each new document.

2. Creating a Template
Creating a template in LibreOffice could not be any easier:
- First, I would open a new document in LibreOffice. For this example, we will create a template for an APA formatted paper.
- I would format the new document following the APA format rules. The APA format requires 1" margins on all parts of the paper. I would set this by going to Format > Page and then setting the margins to 1.00" as seen in Figure Templates.1 below.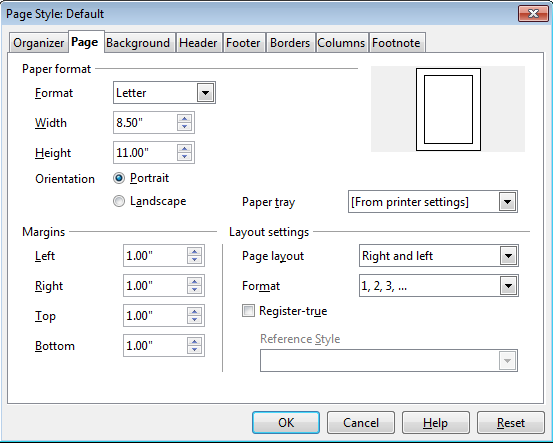 Figure Templates.1: Setting Margins to 1" in An APA Formatted .odt Document
- APA-formatted papers normally have a title page, a running header, an abstract section which summarizes the paper, a body, and a references page. I would set up all of these sections in my template.
- I would then save the file as an ODF document template with a .ott extension, as shown in Figure Templates.2 below. Saving the document as a .ott file makes it much harder for me to accidentally write over the template.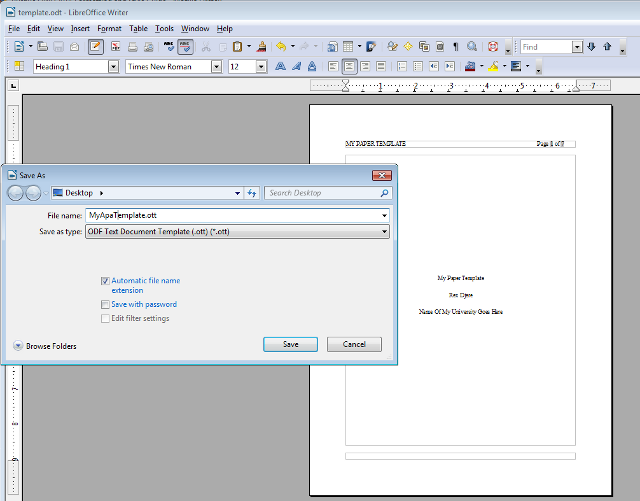 Figure Templates.2: Creating a Template For an APA-Formatted Paper
3. Templates In All of the LibreOffice Applications
Creating templates is similar in all of the LibreOffice applications, but the file extension of the template file is slightly different in each applcation. Figure Templates.3 below illustrates these different extensions.
| | | |
| --- | --- | --- |
| Application Name | Application Type | Template File Extension |
| Writer | Word Processor | .ott |
| Calc | Spreadsheet | .ots |
| Impress | Presentations | .otp |
| Draw | Drawings | .otg |
| Base | Database | N/A |
Figure Templates.3: LibreOffice Template File Extensions